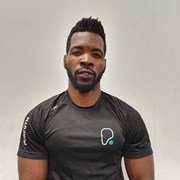 Oshar Smith
Hi.
I believe an active lifestyle is a healthy one.
Being involved in fitness from an early age I've been fascinated with the many ways the body can get involved in movement. I try capturing the essence and purpose of the exercise incorporating elements of balance, strength training, and conditioning. So whether it's to do with toning, target training, developing strength for a specialised sporting activity or just getting fit. Give me a shout!
As a Personal Trainer, I measure success that not only with the smiles but from the reviewing results. The proof is in the pudding. Setting goals and optimising planned periodic training sessions I've helped clients improve their fitness levels, posture, strength and confidence helping them take training from a hobby to a lifestyle.
Expectations have to be realistic. Anything can be achieved with hard work, determination and planned consisitecy.
Happy to help!
Specialist Areas
Body confidence
Body fat reduction
Injury prevention and rehabilitation
Muscle tone and development
Persistent motivation
Strength and conditioning
Weight loss
Qualifications
• Level 3 Personal Trainers
• Level 3 Nutrition
• Level 2 Gym Instructing