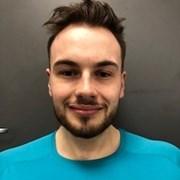 Nathan Morgan
I am a qualified Level 3 Personal Trainer, I specialise in fat loss through building strength
and muscle to not only lose the weight but allow you to eat more and keep the weight off
through sustainable weight loss.

I was a classic case of a chubby child becoming an obese adult, I had always enjoyed going
to the gym over any sport, I YoYo'd Up and down in weight for many years never really
knowing how to keep it off, doing endless sessions of cardio and only getting the results I
wanted for one or two weeks of the year. Using a combination of techniques and training
methods to put on muscle allowed me to eat more while still losing fat.

Another passion of mine is strength training, in particular powerlifting. Having something to
train towards always kept me focussed on my goals. I try to incorporate this into my personal
training, giving my clients a target to achieve whether this be a competition, or even
something as simple as getting back into an old item of clothing. Making small incremental
progress is the key to results.

If you are tired of not being happy and fancy a change, send me a message and we can get
started right away!
Specialist Areas
Body confidence
Strength and conditioning
Weight loss
Qualifications
Level 2 Gym Instructing
Level 3 Personal Trainer