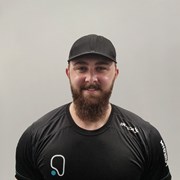 Morgan Noble
I love to help people gain confidence in the gym. I love seeing people grow as individuals and gain an understanding as to what training really means. If you're looking to move better, feel better, be bigger or become stronger I'd be more than happy to help.
I've always been naturally thin and struggled with confidence but by going to the gym consistently and gaining strength and size, the gym has helped me to gain the confidence I needed, and I want to share the same feeling with everybody else. Therefore, becoming a personal trainer was the next natural progression.
I believe that there should be a reason for everything we do in the gym otherwise we're just moving and hoping for the best. I'm extremely passionate about my work and have continued to invest in myself as a coach throughout the years to give myself the best possible understanding.
So, if you're a complete beginner, intermediate or advanced gym goer, I'd be more than happy to talk. Feel free to contact me or find me on the gym floor.
My height makes me easy to find.
Hope to see you soon!
@nobilitycoaching
Specialist Areas
Body fat reduction
Functional specialist
Muscle tone and development
Strength and conditioning
Qualifications
N1 Biomechanics & Exercise Execution
Pre-Script Barbell
Level 3 Personal Training
Level 2 Fitness Instructing