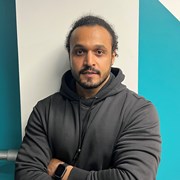 Mohit Mishra
I have more than 7 years of experience in the fitness industry.
I have worked with corporate clients in India and helped them reach their desired goals and I have helped many Indian television celebrities in their weight loss journey.
I was a part of the training team for an Indian amateur bodybuilder. I believe in science and always implement that in my training.
It is quite simple.
My aim is to provide my clients with the best results possible by providing the most effective and professional training.
I completely understand that changing your life to accommodate new fitness habits can be challenging, meaning you may have failed in the past; My goal is to change your attitude towards fitness and show you how easy it can be to adapt a healthy lifestyle. Fitness does not mean torture or going through pain-full and tasteless diets. It's a beautiful journey and you should enjoy every bit of it so that you can make this as your daily routine and part of your life.
And the biggest factor here is mindset.
It is my job to motivate and help you achieve your desired goals.
Specialist Areas
Body fat reduction
Muscle tone and development
Nutritional guidance
Sport specific training
Qualifications
Certified personal trainer Pearson assured.
Sports and nutrition from k11 academy of fitness science.
European register of exercise professionals- level 4.