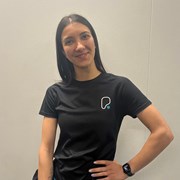 Mina Esfandiari
Hi I'm Mina
Fitness has been a part of my life since I was a child. I'm driven to adventures, good food and believe that life is all about balance. Love yourself and live for what you love.
I have been teaching yoga for 3 years so it gives me the opportunity to go through stretching to prevent injuries and pain. I will help you to build the lifestyle and set different challenges to discover your body's capabilities and go beyond mind excuses.
We'll take care of every aspect of your mental and physical health.
Specialist Areas
Bespoke plan
Body confidence
Functional specialist
Muscle tone and development
Nutritional guidance
Weight loss
Qualifications
Level 2 Fitness Coach
Level 3 Personal Trainer
Certified Yoga Instructor