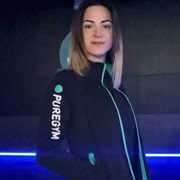 Mhairi De Luca
If health and fitness are important to you but you don't know where to start or how to progress your journey then I'd love to hear from you.
BECOME YOUR MOST CONFIDENT SELF
Tell me your goals and I will assist you all the way with a tailored fitness and nutrition plan that is realistic and sustainable to ensure you succeed.
I understand there are various barriers so tell me what they are and let me find the solution.
MY JOURNEY
I have always been fairly active but my focus was usually cardio and I didn't love it so exercise usually felt like a chore.
My body changed after having children and I didn't feel as strong, fit or able as I used to. My abdominal muscles split on my third pregnancy and I thought (and was advised) any core strength was likely lost forever.
A few years ago I began weight training and I have never looked back. I now enjoy my workouts, feel stronger, more motivated, healthier, happier and more confident. I can honestly say that at 37 years old, I love and respect my body more today than I ever have.
IG: @mhairidelucafitness
Specialist Areas
Bespoke plan
Body confidence
Body fat reduction
Muscle tone and development
Nutritional guidance
Persistent motivation
Pre and post natal
Weight loss
Qualifications
Level 3 Personal Trainer
Level 2 Gym Instructor
BA Hons Public Relations and Communications