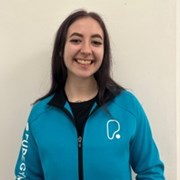 Megan Turner
Hi, I'm Megan and I'm a personal trainer.
I'll never forget how anxious I was my first few months going to the gym. As a Support Worker in my previous roles, I have a major passion for helping people improve their lives. 
With each client I aim to empower them to become the best version of themselves and advance in the safest possible manner. 
My main focus' are specialised diets, hypotrophy (gaining muscle), lifestyle changes and managing long term conditions. 
Specialist Areas
Body confidence
Muscle tone and development
Nutritional guidance
Qualifications
Certified Level 2 – Gym Instructor
Certified Level 3 – Personal Trainer
Certified Level 3 – Exercise Referral