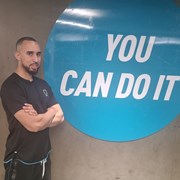 Matt Grant
Look back or move forward!!
Are you feeling you want to keep fit? Build knowledge and a strong mindset on fitness but don't know where to start? Or have you never been to the gym to learn new ways to achieve newer things for your fitness goals? Well, here's how it goes...
You train with me I aim to motivate you to the best I can, giving 100% on performance and improving technique, going that extra mile changing those beliefs from a can't do to a can-do attitude.
So just remember to follow the journey, and trust the journey as this should be fun, life-changing and a happier lifestyle.
So, you haven't got a matt yet to train with, well here's one now!!
This is just the beginning!!
Specialist Areas
Body fat reduction
Muscle tone and development
Persistent motivation
Weight loss
Qualifications
Level 3 Personal Training 
Level 2 Gym Instructor