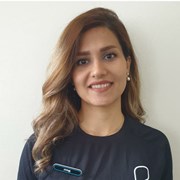 Masoumeh Soleimani
Hey Everyone!
My name is Masoumeh, but my friends call me Masi.
As a fitness professional I know change can be scary, but what is even more scary is to wake up 10 years later and realise nothing has changed.
during my journey I am proud that I have helped more than 100 women to achieving their goals to get stronger, look better, and feel better. I can confidently coach you with the applied knowledge and functionality needed.
My goal is to share my learning and together, set realistic goals to reach the healthiest version of you. It is not just about physical changes; your mental health and confidence will improve and I am passionate about bringing this out in you.
No matter where you are currently, lets get to where you want to be.
I like to see myself as an approachable person, therefore I hope you can come and find me if you have any questions or just fancy a chat. Alternatively, don't hesitate to get in touch my text or email.
Specialist Areas
Functional specialist
Muscle tone and development
Nutritional guidance
Strength and conditioning
Weight loss
Qualifications
Level 2 Fitness Instructor
Level 3 Personal Training
Functional Training
Qualified in Nutrition & Weight Management