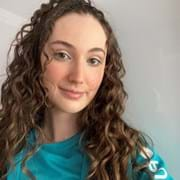 Mary Lynton-Jenkins
Due to my own challenges with fitness, I've made it my goal to train and assist others into falling in love with their bodies, gaining confidence, and learning what fitness and health means. Everyone's path is unique, whether you're a brand-new gym beginner, hoping to gain more muscle or shed unnecessary fat, or perhaps you've been training for what seems like an eternity and haven't noticed much improvement. Whatever your circumstance, I want to be that helping hand.
As your Personal Trainer, I will be open and honest with you whilst making sure you have support at all times. I provide dietary guidance, regular check-ins, and innovative personalised plans that fulfil your needs, to help you achieve long-lasting, amazing results.
Let's not delay your dreams any longer and get you started! All it takes is a free consultation to help examine your health and discuss where I can take you! Feel free to talk to me on the gym floor or contact me through email/phone!
Specialist Areas
Bespoke plan
Body confidence
Body fat reduction
Muscle tone and development
Nutritional guidance
Persistent motivation
Weight loss
Qualifications
Level 2 Fitness Instructor
Level 3 Personal Trainer
BSc Exercise and Fitness Management