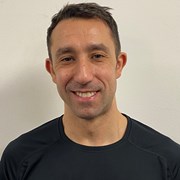 Martin Sicilia
I'm Martin a personal trainer here at PureGym.
I want you to be the best version of yourself!
So whether you wish to:
Drop body fat
Build muscle and strength
Improve cardiovascular health
 I'm here to help you achieve your optimum self.
My aim is to help you achieve your ultimate and personal goals by:
Adopting a healthier lifestyle
Combining training and nutrition that will lead to ongoing success in and out of the gym
If you have any questions, feel free to come talk to me or by using my contact details.  
We face an uphill battle to live a healthy lifestyle due to work, parenting, studying etc.
We are surrounded by unhealthy but convenient food options which only make us less productive and when we come to train, we're feeling low, tired and do not have the energy or mental focus to train to our physical and mental ability, stalling progress.
Sound familiar?
I work closely with my clients creating a tailored session plan that is challenging yet enjoyable:
Coaching cues to improve form
Set appropriate and realistic goals
Nutritional guidence that suits your lifestyle
Let us get started with your life changing FREE consultation today!
Specialist Areas
Body confidence
Body fat reduction
Persistent motivation
Weight loss
Qualifications
Gym Instructor Level 2
Personal Trainer Level 3
First Aid