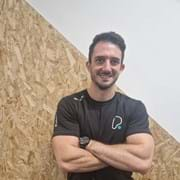 Contact
Log in to view contact details
Martin Jackman
When I was younger I always enjoyed fitness, be it sports, martial arts or just keeping healthy. However as life progressed I began working a desk job and became a father as a result my fitness took a back seat until one day I realised I needed to change I was no longer the athletic kid and it was starting to show.
This is where my passion for fitness took over and I was able to put the work in to lose the unwanted weight and improve my fitness. It is because of this I am committed to helping people achieve their goals whether it is to lose weight, gain muscle, improve athletic ability or just reach a new level of body confidence. I know what it means to people and how fitness can change their lives.
Now I am lucky to be working with people and helping them achieve results they never thought were possible, setting new goals and reaching new heights.
With me you will get a fully committed trainer who will give you the guidance and motivation you need with fun and rewarding sessions tailored to your goals.
Why not start your fitness journey today?
Specialist Areas
Muscle tone and development
Nutritional guidance
Weight loss
Qualifications
Level 2 Gym Instructor 
Level 3 Personal Trainer