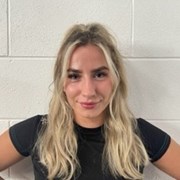 Marta Oszczygiel
Ever since I was little, I always struggled with my weight. I've always been a petite girl, with no shape to me whatsoever. I hated how I looked so I signed up for a gym membership to gain muscle, it was not an easy ride! I had absolutely no idea what I was doing, I had no confidence at the gym and I didn't understand how to eat right to gain healthy weight. Eventually, I ended up gaining a lot of body fat, which caused me to be even more unhappy with my body, on top of that, I had extreme anxiety.
After a lot of failures, I decided to do my research, stayed consistent, pushed myself and created habits. The progress I made was incredible and my mental health was so much better! I am now stronger, happier and most confident I've ever been! My anxiety is completely gone too.
I want to help people feel the way I feel when I'm at the gym, I want to help you gain your confidence, and help you become the best version of yourself!
Are you ready to take that step?
Specialist Areas
Body confidence
Muscle tone and development
Nutritional guidance
Weight loss
Qualifications
Level 2 fitness instructor
Level 3 personal trainer