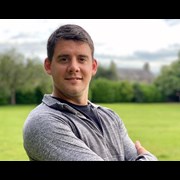 Mark Pennycook
Why are you reading this right now?
Is it because you have tried to lose weight before and didn't get past the first few weeks?
Has there been failed attempts at fad diets that don't work?
Are you unhappy when you look in the mirror and long to be happier at your own reflection?
Do you wear baggy clothes to cover up or hide your body?
Do you simply want to feel and look better than you already do?
Do you want to stop hiding away from the camera and stop getting rid of pictures of you that you hate?
My name is Mark and I have been a Personal Trainer working with woman who feel like this every day and don't know what to do about it for almost 10 years.
It is my passion to teach women the simple daily habits to eat, workout and move in a different way than before, to help become the best version of themselves!
If you are ready to get in the shape of your life and smile when you see your reflection, text, call or email me now and take charge of your life!!
Specialist Areas
Body confidence
Body fat reduction
Pre and post natal
Weight loss
Qualifications
NC Sports Coaching
SVQ Activity Leader
REPS Level 2 & 3 Personal Trainer
Pre & Postnatal
Indoor Cycling
Gym Based Boxing
Principles of Nutrition
Kettlebells
TRX Suspension Training