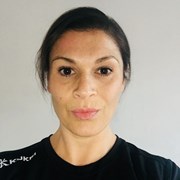 Marika Azzopardi
I believe that every person is different and what works for one person may not work for another. I also believe that health and fitness goals can be reached through hard & smart training, consistency, and determination.
I focus on continual lifelong learning as I work towards enhancing the well-being of my clients by empowering them with knowledge, self-belief, skills, support, guidance, and resources to assist and inspire them through the journey of a healthier life.
In August 2022 I turned 45 years young. I did a 3-month body transformation to mark this special year. The profile picture here says it all. 20 years of consistent navigating through my fitness & strength journey.
I aim to inspire both women and men to think of starting or improving their fitness & well-being. It is never too late to start. It is never too late to change.
This is my passion… This is the reason why I decided to become a Personal Trainer. I am keen to share my knowledge and motivate others but mostly to help individuals achieve their goals and furthermore how to maintain them.
If you are serious about achieving your goals, please get in touch.
Today's actions ARE tomorrow's results!!
Specialist Areas
Bespoke plan
Body confidence
Body fat reduction
Muscle tone and development
Nutritional guidance
Persistent motivation
Strength and conditioning
Weight loss
Qualifications
Lev 2
Lev 3
Enhanced Boxing
Enhanced Training systems
Functional Training
Circuit Training
Kettlebells
Nutrition Advice
Weight Loss
First Aid