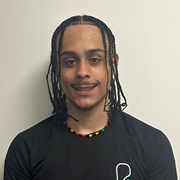 Contact
Malachi Mccauley
Hi, I'm Malachi!
I'm a Level 3 Personal Trainer and would love to work with you!
I have passion and dedication for boxing and strength. I am an amateur boxer with a goal of going pro in the next 3 years.​
I currently coach novice and amateur level boxers individually. ​
My favorite exercise is a deadlift, I love the feeling of accomplishing a heavy lift. 
Check out the app for Boxfit classes!
@mz_fitness6​
Specialist Areas
Muscle tone and development
Nutritional guidance
Sport specific training
Weight loss
Boxing
Qualifications
Level 2 Fitness Instructing
Level 3 Personal Training
Level 3 First Aid