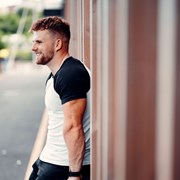 Luke Richardson
Personal Training consists of much more than a one to one exercise session. 
I'm a fat loss specialist. So...
Look in the mirror right now. If you aren't confident in what you see, let's work.
I can instil confidence in you to be able to achieve outstanding results and I can bring out of you something you thought you never had.
Together your goals will be my goals.
I am regarded as an expert for fat loss in the Bedford Area with renowned qualifications such as; Poliquin Biosignature Practitioner, PICP Qualified and HSA Level 5 Nutrition. You can expect everything from nutrition, sleep, intensity, volume, reps, sets, supplementation and all aspects of lifestyle to be covered during your journey to produce outstanding results, not just a 1-hour exercise session. 
As the only trainer who provides a full-money-back-guarantee, financial risk is eliminated. 
I promise to provide you with outstanding service and if you do not get agreed results, every penny invested in yourself is fully refunded, no questions asked.
A quick overview of a typical client journey would look like this:
We have a general non-obligatory chat in person or via the phone to discuss your goals and what you want from the Personal Training journey.
Day 1 we do body fat measurements via biosignature modulation (12 point caliper reading, 99% accurate), alongside a physical assessment and an insightful investigation into your dietary habits and general lifestyle.
I go away to devise a purpose-built plan for you to achieve your goals.
We train multiple times a week.
We track progress daily with food diaries, monthly with body fat measurements and progress pictures. No stone is left unturned and nothing is left to chance. This can all be done through your custom app on your phone for your convenience.
You look and feel different, everyone goes home happy. 
Visit www.LukeRichardsonFitness.com or contact me on 07907 874 166 to arrange a chat so I can spend time with you showing you exactly how I can help you succeed.
If you still aren't convinced that I am the solution to your problems, you can join my 21 Day Challenge for a small price where I guarantee you will lose a minimum of 5-7lbs in 21 days or your money back.
Specialist Areas
Bespoke plan
Body fat reduction
Muscle tone and development
Nutritional guidance
Strength and conditioning
Weight loss
Qualifications
Level 2 Fitness Instructor
Level 3 Personal Trainer
Level 3 Nutrition & Weight Management
HSA Level 5 Advanced Sports Nutritionist
Poliquin Biosignature Practitioner