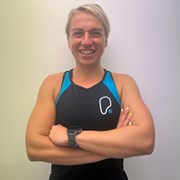 Lucia Skypalova
I used to be very overweight - one day this had to stop so I started running 
This helped me to become a very keen runner but when I started out my fitness journey I could not lift my own body weight or lift dumbbells above my head! 
I began the journey and, as my body changed shape and I became stronger each week, I fell in love with an fitness.  I built my strength and passion for fitness, weightlifting and nutrition and decided to become a personal trainer myself as I knew I had the journey, personality and experience to help others like me who didn't know where to start. 
I am keen to help others and pass on my experience knowing what it takes and having walked the walk myself. 
I am keen on nutrition, weights and love to help people! 
Whether you want to become stronger, loose some weight, put some muscle on or help with your nutrition you can find me here or follow me on my Instagram and I will be happy to guide you and help to make that change you desire.
Or maybe you just want to gain confidence and fit in that dress you have always wanted to wear!  
If that's the case, I'm your girl!
Specialist Areas
Body confidence
Muscle tone and development
Nutritional guidance
Persistent motivation
Strength and conditioning
Weight loss
Qualifications
LEVEL 3 PERSONAL TRAINER
KINETIC MASSAGE SPECIALIST
SPORT MASSAGE THERAPIST