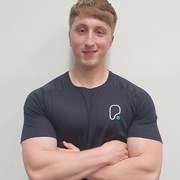 Contact
Free first session offered
Email me
Louis Sheppard
Are you tired of feeling stuck in your fitness journey? Do you find it challenging to build muscle and reach your goals while juggling a busy lifestyle? Look no further! As a dedicated and passionate young personal trainer, I am here to help you break free from your limitations and achieve the body and confidence you've always desired. Together, we will optimise your workouts, focusing on muscle development and toning. I will teach you the most effective exercises and techniques to build lean muscle mass, enhance your strength, and boost your overall fitness. No more wasting time on ineffective routines or feeling lost in the gym – I will be your trusted guide, providing the expertise and support you need to succeed.
One of the key elements that sets me apart as a personal trainer is my ability to tailor programs to fit your unique lifestyle. Having successfully balanced a busy university life and fitness myself, I understand the demands of a hectic schedule. Whether you're juggling long work hours, family commitments, or social engagements, I've been there. I will work closely with you to design a personalised training plan that seamlessly integrates into your daily routine, ensuring you achieve your fitness goals without sacrificing other important aspects of your life.
By choosing me as your personal trainer, you are making a commitment to invest in yourself and your well-being. Together, we will create a positive and supportive environment where you can thrive. Remember, change is within your reach. It's time to step out of your comfort zone, break free from your limitations, and embark on a transformative journey towards the body and confidence you deserve.
Specialist Areas
Bespoke plan
Muscle tone and development
Nutritional guidance
Qualifications
Certified Level 2 – Gym Instructor
Certified Level 3 – Personal Trainer
Management- BSc (Hons)