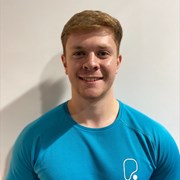 Liam Tomkins
Hi, I'm Liam!
I've been an avid lover of sports and fitness all my life and I'm excited to transfer everything I've learnt through my own experience in a gym environment and through my education to help YOU achieve your fitness goals!
Do you struggle to stay on track? Have you tried to reach a goal but got disheartened when you didn't get the results you were after? Would you like a plan in place to help you not just smash your goals but to become the best version of yourself you can be?
If you answered yes to any of those questions then you'll be pleased to know that you're in the right place! I am here to guide you on your journey to transform your body so that you achieve your dream physique, optimal fitness levels, ultimate confidence and overall a better quality of life!
I know starting on a fitness journey can be a daunting and tedious process but I can show you how to make exercise fun and enjoyable so that before you know it, you've reached your goals in no time!
I will always motivate you and bring my enthusiasm and passion for fitness into your sessions so that your time with me is the best it can be! 
Are you ready to take the leap? Come and say hi to me at the gym and I'll be happy to let you know how I can help you or drop me a message on my Instagram - @tomkins_fitness
Specialist Areas
Bespoke plan
Body confidence
Body fat reduction
Muscle tone and development
Nutritional guidance
Strength and conditioning
Qualifications
First Aid
Level 2 Fitness Instructor
Level 3 Personal Trainer
BSc(Hons) Sport and Exercise Science