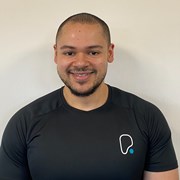 Leon Hill
Hello, my name is Leon. I'm a dedicated, motivational personal trainer here to help everyone reach and achieve their goals. I know that everyone is different regarding to their fitness levels, I create specific training programmes that are suitable for each individual and insure that they are relevant to their goals.
Since becoming a Personal trainer, it's been incredible interacting to members in the gym. Showing what they have learned and what they have accomplished through being dedicated and having goals that they want to achieve. I'm always willing to help anyone in need of advice or tips about training.
I like to take time with my clients about their goals and what they want to achieve, Help create a programme for them that is appropriate for their needs. Not to mention periodise their training, allowing them to make further progressing and gain results.
Throughout ours sessions we are going to get even better, become confident, stronger and improved. There to help push and motivate you, knowing that all hard work will pay off. If you have any questions feel free to ask.
Specialist Areas
Bespoke plan
Body fat reduction
Muscle tone and development
Nutritional guidance
Weight loss
Qualifications
Level 3 in Personal Training
Level 2 in Fitness Instructing
First Aid at Work