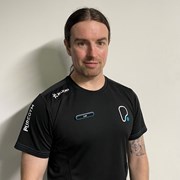 Lee Hodgson
Hi, I'm Lee, I've trained for eight years, in that period I've tried bodybuilding, powerlifting and Intense training programmes to decrease my own body fat %.  I completed a 12-week body transformation weighing in at 13.1 stone and by week three I achieved what I set myself to do in 12 weeks by losing 2.5 stone going down to 10.6 stone and by week 12 I was 10.4 stone. By taking a step back and focusing on getting the right balance of calories and workouts I reached my goal of reaching 10% body fat.
I'm now more focused on building my strength through bodybuilding and powerlifting inspired programming whilst not neglecting to add in some conditioning work to maintain my fitness levels.
I'm a big believer in challenging yourself and pushing yourself to achieve something that at one time might have seemed impossible. With consistency and guidance to work with correct technique you will get results. So if you're looking to get stronger, lose some body fat, improve your general fitness or improve your body composition to look toned I would love to hear from you. Find my details on the PureGym website or take one of my business cards today.
Let's get training.
Specialist Areas
Body confidence
Body fat reduction
Muscle tone and development
Nutritional guidance
Strength and conditioning
Weight loss
Qualifications
Active IQ level 2 Gym Instructing
Active IQ level 3 Personal Training
Emergency First Aid