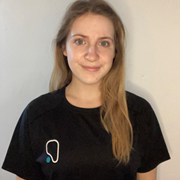 Contact
Lauren Pringle
I have trained from an early age in dance and musical theatre which is where my passion for fitness has developed from. Whilst undertaking a degree in professional dance, covid hit and I was left with a lot of free time and excess energy. Whilst I have always enjoyed fitness, my passion really came to life during this time.
Due to the physical demands of dance, my training mostly revolved around cardiovascular fitness. However, it wasn't until the injury I sustained shortly before lockdown that I realised the importance of strength and resistance training. Since then I have worked on many different programmes and researched recovery and fitness as a way of injury prevention during training.
It is through my experience that I have been able to realise the true potential of fitness. Your fitness journey can help you in such a wide range of areas, from injury prevention and recovery to using exercise as a way to increase happiness. So no matter what your needs are, or where you are in your fitness journey, I would be more than happy to help guide you to the success that you are looking for. 
Please feel free to come and find me around the gym. I am always happy to give advice. If you would like to book a consultation, give me a call or message and I will be happy to book you in.
Specialist Areas
Body confidence
Injury prevention and rehabilitation
Persistent motivation
Strength and conditioning
Qualifications
Level 2 Fitness Instructor
Level 3 Personal Trainer