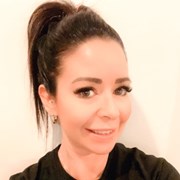 Kirsty Douthwaite
Do you feel anxious coming to the gym?
Well, you're not alone, I used to be anxious, scared to try certain equipment in fear of looking silly. The best thing I did was get a Personal Trainer, in doing so I improved my health and confidence in all aspects of my life.
Have you suffered a health condition or recovering from surgery and aren't sure what you should be doing?
My Nursing background of 17 years has developed my knowledge in disease prevention such as diabetes, cardiovascular diseases, exercise following surgery, injury prevention and the effect that exercise has on our mental health.
I want to help you today either approach me on the gym floor, text call or email and together we can start the journey towards achieving your goals!
Specialist Areas
Body confidence
Body fat reduction
Injury prevention and rehabilitation
Pre and post natal
Weight loss
Qualifications
Degree in Adult Nursing
Level 3 personal Trainer
Pre & Post Natal Exercise