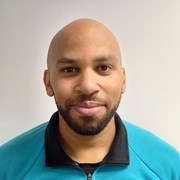 Kieron Spencer
Firstly, let me tell you a little about myself, my name is Kieron and I have been a personal trainer since 2014. In 2017 I made the jump to become the assistant gym manager at PureGym York, however after 4 years I found I missed personal training and directly helping others work towards their goals, so I made the decision to step back down into a trainer role within the gym and I cannot tell you how happy that has made me!
Prior to being assistant gym manager, I worked within the mental health sector for 2 years, my job role was to educate individuals about healthy eating, exercise and overall, how to create a healthier lifestyle which I very much enjoyed. This post was very fulfilling and allowed me to see first-hand how the benefits of exercise and lifestyle can hugely contribute to someone's mental health and emotional well-being.
During my years as a trainer, I have helped people change their body composition, gain strength and recover from injuries however I mainly focus on weight loss and helping people re-discover their lost confidence, sound familiar?
I believe sharing knowledge with my clients is the key to their success, and together we will lay the foundations for your continued growth. I am not the 'military' type and much prefer co-production of plans and goals to support you.  My approach to training is work hard, laugh hard. So, expect some laughter, fun and (what I believe to be) good humour.  
Specialist Areas
Body confidence
Nutritional guidance
Weight loss
Qualifications
Level 3 Advanced diploma in Personal Training
Level 3 Circuits
Level 3 Gym based boxing
Level 3 Cycling
Level 3 Nutrition