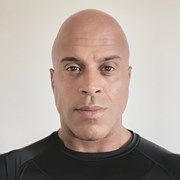 Kevin Campbell
I have to say that I am obsessed with self-development; both physical and emotional development. Physical health and emotional health are intimately intertwined in what's known as the mind-body connection. Our chemistry and biology impact our mood and emotions, as well as thoughts and beliefs. With all of these factors combined, they play a major role in influencing our stress and physical health. Because of my academic and practical experience, I am able to tap into both with proven positive outcomes for which I am able to give you customer feedback on request to attest to this.

As a certified personal trainer, qualified counsellor and PhD psychology student I have many tools in my bag to help people in many areas of their well-being

My specialist areas include strength training and hypertrophy, weight loss and toning. Body confidence, eating disorders, anxiety and assertiveness training are other areas I specialise in.

Come and chat with me or contact me anytime to discuss your personal journey to a place of physical and emotional harmony with no obligation.


Specialist Areas
Body confidence
Body fat reduction
Muscle tone and development
Strength and conditioning
Weight loss
Qualifications
Level 3 Personal Trainer
MSc Psychology
Level 2 Gym Instructor
Level 2 Counselor