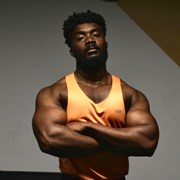 Kevin Boateng
With over 12 years worth of training experience, I have spent hundreds of hours in the gym. It is this wealth of experience that is my greatest asset in helping people achieve their fitness goals.
My aim as your Personal Trainer is to provide you with the support, motivation and expertise needed for you to finally make the changes and achieve the goals that you are looking for. My approach involves communicating closely you to determine your needs and goals, monitoring your progress, and coaching you in a way that ensures you are getting the absolute most out of each and every session. I understand that training and dieting can be tough, and at times it feels as if you may not be able to reach your goals, but I am steadfast in the belief that with the guidance of a well experienced trainer anybody can achieve things that they previously thought weren't possible.
Having a background in amateur bodybuilding and powerlifting I have a wealth of experience with fat loss and body toning/sculpting, as well as muscle and strength building. My fitness ethos is that you should train hard and train well, push yourself, but also that you should train in a way that you enjoy. I pride myself on creating training programmes that are effective and intense but in a way that you can enjoy.
Specialist Areas
Body fat reduction
Muscle tone and development
Strength and conditioning
Weight loss
Qualifications
Level 2 Fitness Instructor
Level 3 Personal Trainer