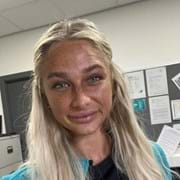 Keira Banner
Hi my name is Keira!
Most people assume fitness coaches have always been athletic and have 'great genetics' but this isn't always the case. Growing up I struggled with my weight and was bullied throughout my younger high school years.
In high school I focused more on academics than I did sport, in fact I hated sports!
When I was around 17 years old I decided I wanted to change this. I wasn't happy with how I looked and more importantly, how I felt.
Knowing where to start was daunting, and I took the uneducated and unhealthy approach to weight loss, severely restricted the foods I did eat, I ran obsessively and let it control my life. This wasn't sustainable and I was miserable - even less confident than before.
It was this point I decided to educate myself on weight lifting and proper nutrition. I was on my way to studying medicine at university when I started going to the gym to lift weights where I could focus on me and this stress relief is where my love for fitness began.
I love what I do but most importantly I love helping to educate my clients on things I wish I knew in the beginning of my journey. My medical background has enabled me to continue specialising in sport rehabilitation and whether you're wanting to lose weight or going through rehab, building the body you want takes time, commitment and knowledge.
Specialist Areas
Bespoke plan
Body confidence
Body fat reduction
Injury prevention and rehabilitation
Muscle tone and development
Nutritional guidance
Pre and post natal
Sport specific training
Strength and conditioning
Weight loss
Qualifications
Level 3 Personal Trainer
Level 2 Fitness Instructor
Sports Recovery and Rehabilitation