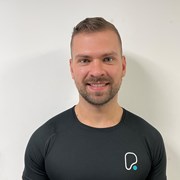 Contact
Free first session offered
Email me
Kalebas Simavicius
Hey! I am PT Kal .
In my 8+ year fitness experience I have began through a fat loss journey in which I have lost from 126kg to 91kg (35kg), I have then built up weight in muscle to have my body at a healthy and strong level which has resulted me not only to feel strong and active but very fit and healthy. I have learnt that keeping your body strong and working your muscles correctly will always use your body-fat through training, keep your joints strong, improve your flexibility and help you live a long life.
With my methods I find that training and working towards your goal with me helping you very effective as well as something that you can really come to enjoy too! My intention as a Personal Trainer is to make sure that your goals are met, evaluated and improved. - Simple
Before committing the first session with me is offered complimentary in which we can consult about your goals , how I would help and what sort of training we would do!!
Through my work as a PT my clients have always developed - on top of their results achieved - significantly more confidence in themselves, enjoyment and passion towards fitness and training and more happiness and mental release. I can promise this as myself I have and still experienced this through my own journey and through many of my other clients. As one of my Clients I can promise you that I will not be a PT that will only be your PT in the time that we train together, as my Client you're my client 24/7, any time you need some guidance I am just a message or phone call away!
What can I offer you as a PT?
Bespoke 1 on 1 as well as 2+ / group personal training sessions ( hourly/half-hourly)
Block/bulk rate sessions - discounted costs for seasons bought in advance
24/7 Message/WhatsApp support for any queries and advice
Brilliant diet and nutrition tips tried and tested to support both fat loss and muscle gain
Tailored workout training routines planned out specifically for you.
Specialist Areas
Bespoke plan
Body confidence
Body fat reduction
Muscle tone and development
Persistent motivation
Postural correction
Strength and conditioning
Weight loss
Qualifications
Level 3 Personal Training
First Aider qualified
Level 2 Fitness Instructor 
Level 3 Premier Global NASM PT qualified
Level 3 Strength and Conditioning coach