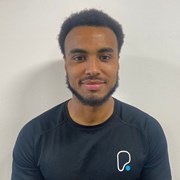 Josh Baloucoune
First of all, I want to you answer these questions:
Are you struggling to lose weight/lose fat and keep or build muscle (tone up)?
Are you lacking structure and a routine?
Do you need someone to make sure you stay on track and give you that extra push towards your goals?
I started my own fitness journey in 2017 when I first stepped foot into a gym. At that time, I had no idea of what to do and was too scared to ask for help. I wanted to lose fat whilst building muscle but had no idea where to start. As a result of this, I educated myself and qualified as a coach. Later down the line after I achieved my transformation, I knew I wanted to help other people achieve their goals without struggling the same way I did.
I specifically work with people who want to lose weight/fat whilst looking to maintain or build muscle. This will naturally lead to helping to gain confidence both inside and outside of the gym.
Don't Forget… Always B2A!!
Specialist Areas
Body confidence
Body fat reduction
Muscle tone and development
Weight loss
Qualifications
Level 2 Fitness Instructor
Level 3 Personal Trainer