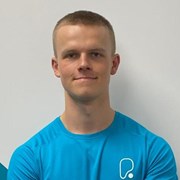 Joseph Kusinski
Hi, my name is Joe, I'm a fully qualified, CIMSPA accredited personal trainer here at PureGym Knaresborough. I believe that movement is medicine and I want to help you discover the true benefits of exercise. If you are looking for: 
 -An improvement in your body composition
- All-round improvement in your strength
- Structured and effective programming
- A surge of confidence and a boost for your mental health

Or if you just want to enjoy life, pain free whilst enjoying your body's full potential for movement and wellbeing, all this can be achieved through my effective and highly personalized programming and coaching.

My job is to enable you to attain and maintain optimal fitness, strength and health through exercises that directly enhance your life outside the gym.

If you are interested in improving your overall health whilst achieving your specific fitness goals, contact me via the email above to book a free consultation and let's start moving!
Specialist Areas
Functional specialist
Muscle tone and development
Weight loss
Qualifications
Level 2 Fitness Instructor
Level 3 Personal Trainer
First Aid