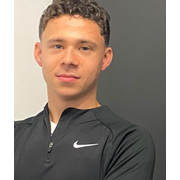 Contact
Joseph Bleetman
 I help car and desk-based executives relieve lower back pain.
Whether you struggle with long sitting hours, lots of travelling or a stressful job: my 90-day MoveFreely programme relieves tension and helps you move freely.
If you want to be confident, pain free and full of energy then join me for 1-2-1 training or small group training.
I have worked in the fitness industry since I was 18 years old and was on the board of the Chartered Institute of the Management of Sport and Physical Activity – which write the guidelines for personal training.
I now use a full body approach to regain lower back health, build core stability and have a long-term strength and movement plan to promote optimum health.
Join me and commit to high quality strength and movement by contacting me by WhatsApp or LinkedIn
Specialist Areas
Bespoke plan
Functional specialist
Injury prevention and rehabilitation
Muscle tone and development
Strength and conditioning
Qualifications
Level 3 Personal trainer
Pelvic and Spine Biomechanics coach
Shoulder, Knee and Foot Biomechanics coach
Low Back Health/Pain Biomechanics coach
Steel Mace Flow Level 2