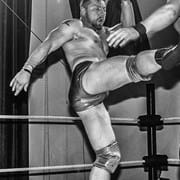 Joe Bligh
I've been a personal trainer for 10 years, with over 20
years of training experience. I will be able to find the
right approach to help you achieve your goals; weight
loss, toning up, muscle gain, build strength, improve
athletic performance, or just to get started on your
fitness journey.
I believe fitness should be affordable no matter your
background so I have a variety of package deals to suit
any budget including NHS, care worker and student
discount.
I am also a professional wrestler where over the years I
have performed and trained alongside talent of the
highest level from WWE, AEW, NJPW, TNA, NWA and
World of Sport.
I have also recently lost 30KG/5 stone of weight recently
due to a health problem so I know first hand how hard it
is to begin to loose weight or to feel like a beginner.
If it sounds like I can help you, feel free to drop me a
message and we can go from there!
Specialist Areas
Body confidence
Body fat reduction
Muscle tone and development
Nutritional guidance
Boxing
Qualifications
Level 3 Personal trainer
Level 2 Gym instructor
Certified Nutritionist
Gym based boxing