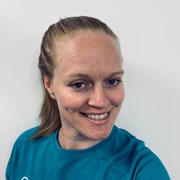 Jess Sweatman
Why did I become a Coach? 
After playing Rugby and suffering injures - resulting in retirement from a gruelling sport, it lead me into Coaching. I wanted to help others avoid injures like mine while still enjoying the physicality. 
Having a body that could no longer keep up, functional mobility and learning how my own body moves became my priority. Often I'd hit the dreaded brick wall, struggling with a shift from physical capability to mental. 
I'd have to shift my focus from an overall goal to a much small target. Trusting I was still moving forward, even if from the outside it didn't look liner.
What do I believe in?
Education. Over the years Coaching and gaining Personal Trainer qualifications, the biggest standout for me is the "Person"
Everyone is moves, trains and lifts in their own unique way as each body is built differently. It's not about right or wrong, it's only ever about completing exercise in the safest way for individual bodies and I that is where I can help you!
Don't be put off by the thought I'm a vocally loud coach, I am but its much more about what you can do each day and how to keep taking the next step even when it's tough with my guidance. 
Specialist Areas
Bespoke plan
Body confidence
Body fat reduction
Muscle tone and development
Nutritional guidance
Persistent motivation
Sport specific training
Strength and conditioning
Weight loss
Qualifications
Lvl 2 Fitness Instructor
Lvl 3 PT
First Aid