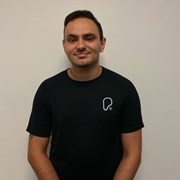 James Bharat
I've been passionate about fitness and self improvement since the age of 15 when I first discovered competitive rowing. That began the start of my own fitness journey.
Fitness has helped me in increasing my own body and day to day confidence! At first, I was scared to try new things, now I actively enjoy trying as many new things as possible!
Thanks to the gym, I have been able to fulfill my personal ambition to enter the world of Marial Arts.
To date I have trained in Muay Thai, K1 Kickboxing, Mixed Martial Arts and Brazilian Jujitsu in the UK and overseas.
I believe that confidence is key for achieving your results. This is exactly how I will help you! I will work with you every step of the way until you achieve the goals you want!
It's never too late to begin your own fitness journey!
We will achieve them TOGETHER!
Specialist Areas
Bespoke plan
Body confidence
Body fat reduction
Nutritional guidance
Sport specific training
Strength and conditioning
Weight loss
Boxing
Qualifications
-Level 2 Fitness instructor
-Level 3 Personal Trainer
-Emergency First aid