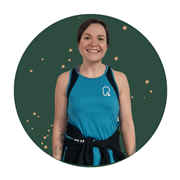 Jade Attwood
Feel a little lost? Not sure how to push toward your new goal? Or how to strike a healthy relationship with exercise?
 What if it was possible to feel confident both in and out of the gym?
Finding a form of movement that you love and that helps you hit your goals.  Giving you both mental and physical benefits.
 Well hey, my name's Jade - and I want to help you do just that.
 What can you expect working with me?
- Personalised progressive programming: A bespoke program paired with a guide full of all the info you need to succeed.
- Fun and challenging sessions: Fitness doesn't have to be so serious, so our sessions will be packed with fun and laughs.
- Your biggest cheerleader: Both in and out of the gym. 
- A safe space: Fitness should be about how you feel so if you want to take the focus off of weight and calories I'm here to help.
Specialist Areas
Bespoke plan
Body confidence
Muscle tone and development
Strength and conditioning
Qualifications
L3 Personal Training
L2 Fitness Instructor
First Aid
L3 Eating Disorders for Sport