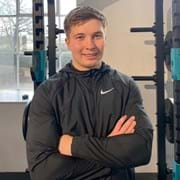 Jack Baker
Hi, I'm Jack.  I am a current BSc Sports Performance and Coaching student at the University of Essex, personal trainer and online coach. 
My passion for all this sports and fitness began at the age of 2 when I first started playing football.  Throughout school and Sixth Form, I have tried my hand at a number of sports including volleyball, rugby and x-country running to name a few.  The wide variety of sports and teams I have participated in has taught me many different skills and disciplines that I have applied in my training over the years.  I gained a BTEC Level 3 distinction qualification in PE alongside competing in these sports.   
My gym journey started when I was 16 when my main goal was to improve my performance in sport and how to gain an advantage on the pitch.  Post-lockdown, my goals changed and focused more specifically on weight training to improve both physique and strength.  4 years later I am merging my personal interest in fitness into my career.  
I am now in my third year at the University of Essex studying a degree specialising in Sports Performance and Coaching.  
This subject combines a whole array of modules looking at different aspects within the sports science and coaching fields. I am currently on my placement year working for the Human Performance Unit at my university.  During this placement I have worked with different individuals from elite athletes to fitness beginners. 
This programme has taught me how to create bespoke fitness plans, tailored to individuals allowing them to achieve their fitness goals. 
My experience coaching others as well as my own fitness journey has taught me the importance of accountability and consistency in training and healthy eating.  As a fitness enthusiast, I have a passion for pushing myself to reach new levels whether that is building muscle or improving my speed. I enjoy setting myself new goals and pushing myself to achieve them. As a Personal Trainer my main ambition is to educate my clients on how to build and maintain a healthy lifestyle without sacrificing the things they love. Educating them on the right training that works best for them together with a healthy diet. My aim is to build confidence and help you enjoy exercising in a gym environment to improve your mental health and self-esteem. 
Sign up with me today and then we can start on this journey together!
@jack.bakerfit
Specialist Areas
Bespoke plan
Body confidence
Muscle tone and development
Nutritional guidance
Sport specific training
Strength and conditioning
Weight loss
Qualifications
Level 2 Fitness Instructor
Level 3 Personal Trainer
Level 3 BTEC Distinction* in PE
BSc Sports Performance & Coaching