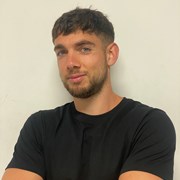 Itai Arvatz
Itai Arvatz
If you're someone who struggles to with fat loss, training goals and achieving balance in your life keep reading.
I'm a big believer in balance. Many people go from one extreme to the other causing them to never stay consistent. A life around fitness needs to be enjoyed in order to be sustained and I'm here to teach you how to do that. I'll give you the education, accountability and motivation to do so.
My goal is to equip you with everything you need so you'll never need a personal trainer again. With tailored training, sustainable nutritional guidelines and accountability we can make lasting habits together to change your life forever.
Specialist Areas
Body fat reduction
Functional specialist
Muscle tone and development
Nutritional guidance
Persistent motivation
Postural correction
Weight loss