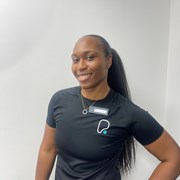 Ify Obanye
Let's get you FEELING like your BEST self!
I know what it feels like to let yourself go, feel stuck, unsure of where to start or even how to shift the weight. I've yo-yo'd due to countless fad diets and ridiculous attempts to lose weight in an unhealthy or extreme way which only led to me gaining more weight and damaging my self-esteem.
During lockdown, I took control over my fitness and health making a significant transformation, losing over 4 stone and building habits to allow me to lose weight sustainably and keep it off. It also reignited my passion and joy for fitness and the benefits it brings to both the physical and mental health.  
Since my transformation, I have been on a mission to help others, especially other females feel COMFORTABLE and CONFIDENT with working out while having FUN doing so! 
If you're looking for accountability and someone with the expertise to help you on your journey to reaching your fitness and health goals??
I GOT YOU!
1-1 PT sessions whether in person or online are great for helping to build consistency, focus and to allow you to reach your goals without the hassle or the admin of planning your workouts. With me, that's all done for you!
Each session is created specifically for YOU with a clear path to hitting your goals not just for the short but for long haul. I will be there every STEP of the way, ensuring you are performing each exercise with good form, are sticking to your plan and are motivated and challenged to becoming your BEST self.
I am a qualified Level 3 Personal Trainer and Gym Instructor who specialises in Step Aerobics, fusing my love for dance and fitness!
Level 3 Personal Trainer.
You'll be sure to break a sweat in my classes and 1-1 sessions, be vibing to sickest tunes and feel energised for the rest of your day. 
If you're interested and want to take the 1st step to feeling the best you've ever felt, catch me on the gym floor or contact me on 07908269140 / fitnesswithify@gmail.co.uk / Instagram @fitnesswithify
Let's goooooo!!!!
Specialist Areas
Bespoke plan
Body confidence
Weight loss
Qualifications
Level 3 Personal Trainer
Level 2 Gym Instructor
First Aid Trained