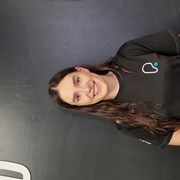 Holly McMahon
Hi, I'm Holly!
I can still remember how daunting my first time at the gym was, there was so much to take in and I didn't know what anything was, it was terrifying.
I am passionate about helping people conquer their fears and learn that they don't need to be scared or intimidated in the gym and see that it's a place for everyone to make a positive change.
The most important thing for me is that you can reach all your goals whilst still having fun and enjoying yourself as I believe that is also part of a healthy lifestyle.
Join the team and let me show you how easy it is to smash your goals whilst still enjoying all your favourite foods and having fun! I'll be there to support you every step of the way on your good and bad days.
Please don't be shy, I'm only a message away if you have any questions about anything just drop me a message and I'll get back to you!
Can't wait to get started! 
Specialist Areas
Body confidence
Body fat reduction
Muscle tone and development
Weight loss
Qualifications
Level 2 - Gym Instructor
Level 3 - Personal Trainer