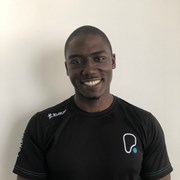 Henry Opiote
I'm Henry
 To be honest I just love the idea of becoming stronger and seeing other people become stronger as a result of listening to me. I moved to Oxford around 2 years ago to start my journey as a PT. I want to bring something different to the table. I want people to try what worked for me.
 One word to describe my style as a trainer is "intense". An I take pleasure in making my client leave their comfort zone at home. I mainly use body weight exercises and movements to achieve fitness goals for my clients. Free weights and circuit training are also utilised to build functional strength in my clients. 
 I love boxing and I use boxing training techniques as I believe it is the most enjoyable way to do cardio, whilst improving  ones balance and ability to think while tired.
My goal is to make my clients the Realise that they are way stronger than they thought.
Specialist Areas
Body fat reduction
Functional specialist
Muscle tone and development
Nutritional guidance
Sport specific training
Strength and conditioning
Weight loss
Boxing
Qualifications
Level 2 Gym Instructor
Level 3 Personal Trainer
First Aid At Work