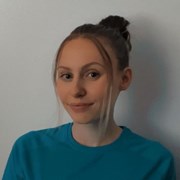 Hannah Such
Hi! I'm Hannah, I'm a qualified Level 3 Personal Trainer.
If you're looking for someone to guide you and give continuous support through your gym journey, look no further, I'm here to help. I specialise in weight loss, body toning and nutritional advice. I want to help you feel your most confident in and outside of the gym. You might not know where to start and that's ok! With me, you can build that confidence and become happier and healthier in no time!
I only started going to this gym this year, thanks to personal training. I used to be very shy and introverted but I gained confidence and I'm now unapologetically myself. That is what I want for you! I want to share my passion with you. Together we can achieve your goals and live a healthier lifestyle, even while eating the foods you still enjoy! Don't be scared to make positive changes and don't be scared to believe in yourself, you're not alone!
Specialist Areas
Body confidence
Body fat reduction
Muscle tone and development
Nutritional guidance
Persistent motivation
Strength and conditioning
Weight loss
Qualifications
Level 2 Gym Instructor
Level 3 Personal Trainer