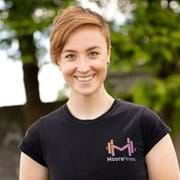 Hannah Moore
Hi, I am Hannah
I am a Women's Fitness Specialist. I have experience working with Women of all ages and abilities. Helping individuals who suffer from PCOS, Endometriosis, Infertility, Obesity, Disordered Eating & Mental Health Issues. I also help Women who are Pre & Post Natal as well as Peri & Post-Menopausal, and more.
I've been a Coach for just over 3 years and throughout that time found that Women's Health was a very under prioritized area within the Fitness Industry. It is my goal to have a holistic view of Women's Health and help you to feel your best. My aim is to encourage women to feel strong, healthy, and confident. I educate you on ways to live and maintain a healthier lifestyle. We find a method that works for you. I encourage you to find ways of enjoying exercise outwith the gym environment, create and maintain a healthy relationship with food without restricting you, and help to develop confidence and a positive mindset around your body.
Helping you improve your Mental Health is something I focus on massively. I am a firm believer that by feeling better about your Mental Health, this will encourage so many positive lifestyle changes. As someone who suffers from anxiety, exercise helps reduce this and makes me feel more confident.
I am committed to helping my clients become the best version of themself. We don't focus on the scales, we focus on YOU- YOUR feelings, YOUR wins & YOUR wants. Your goal is my goal and I am 100% committed to helping you achieve them.
Specialist Areas
Body confidence
Nutritional guidance
Pre and post natal
Special populations
Qualifications
PTA Level 2 Gym Instructor
PTA Level 3 Personal Training
AFN Level 4 Certified Nutrition Diploma
NASM Pre & Post Natal and Women's Fitness Specialist
NHS Mental Health First Aid