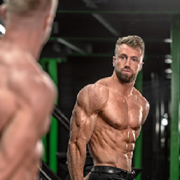 Contact
Free first session offered
Email me
Gye Grauzinis
Coming from athlete family I been involved in various sports as far as I can remember myself. At age 11 I found myself in boxing and for the next 10 years I was competing internationally, representing my country and later Coventry University.
I discovered my passion for resistance training in 2014 when I needed to gain some weight before the fight. Three years into weight training my competitive personality led me to competing in bodybuilding shows and getting mentored by best coaches in the fitness industry.
In 2017 after successfully helping my sister to prepare for Bikini Fitness competition, I started my Online coaching/ Personal Training business 'Pineapple Gains'. Helping people around the world achieve their dream bodies, get in shape for holidays, weddings, photoshoots and help make fitness part of sustainable lifestyle.
If you want to achieve your dream body, get stronger and healthier while doing it - look no further I'm your guy!
Social - @gye_fit
Specialist Areas
Body fat reduction
Muscle tone and development
Weight loss
Qualifications
Level 2 – Gym instructor
Level 3 – Personal Trainer