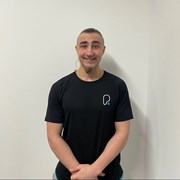 Grezgorz Jankowiak
Just call me Greg..
I started my fitness journey when I was a teenager. 
This is where by journey with health and fitness began, I was a member of Pure Gym when i was 16 and this is where I kicked off with my strength training. In Pure Gym we have a huge variety of machines and equipment that you can use to accomplish whatever goal you want! 
Needing help with anything fitness, health or exercise related feel free to come along and ask me any questions. I will help discuss any help you need and we can book you in for a consultation! 
If I can't help you I will point you in the right direction of you can!
Here we have a great variety of personal trainers that can help and we are all very unique and happy to help! 
Specialist Areas
Body confidence
Body fat reduction
Persistent motivation
Special populations
Boxing
Qualifications
HND Fitness, health and exercise. 
Professional Development Award in PT.
First Aid in Sports and Fitness.
Nutrition assessment.