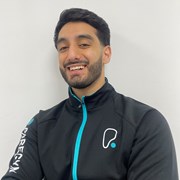 Ghaus Ahmed
Hey people, now I know this fitness journey can be hard and boring at some point but that's why I'm here! To not only guide you but also make the experience the best it possibly can be. It honestly gives me great pleasure to see people achieve the results they always wanted to see, the feeling is like no other! That's why I became a PT, because I know what it feels like to be low, not be motivated and even confused. Let me guide you and show you how fun yet progressive this lifestyle can be.
Whether it's LOSING WEIGHT, BUILDING MUSCLE, GAINING STRENGTH or even TONING - I'll be there every step of the way, pushing you past your boundaries…. Some days you might hate me for it but when you look at yourself in that mirror a few weeks down the line, you'll thank me!!
Let's start this journey together and make the progress you've always wanted to see: PHYSICALLY and MENTALLY.
Remember, in order to succeed and become the best version of yourself, you must break that barrier of thinking you CANNOT because YOU CAN!
HIT ME UP and let's make some GAINS!!!
Follow me on Instagram: fitness_with_ga for more. 
Specialist Areas
Body fat reduction
Muscle tone and development
Strength and conditioning
Qualifications
Level 2 Gym Instructor
Level 3 Personal Trainer 
First Aid