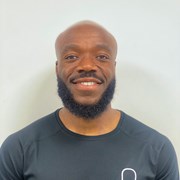 Contact
Free first session offered
Email me
Francis Babalola
Hey Champs, I'm Francis
I'm a Semi-Professional Footballer and a Strength & Conditioning Coach.
Sports-Specific, PERFORMANCE Coaching, Body Transformation are my biggest strengths! Some may say my jokes too, but that's not important.
I will EDUCATE, EQUIP and EMPOWER you.
You'll be able to MOVE and PERFORM and FEEL the best you possibly could!
You'll be full of beans (not literally lol) training with me!
I've helped a handful of clients drop up to 60kgs in weight, build muscle, achieve life long goals and overcome mental barriers.
I currently and have trained Olympians and Athletes that compete on the Professional and World level, so as long as you're ready to make a POSITIVE CHANGE, you're in FRantastic hands! (Get it? :D)
If you're unsure of what or HOW to train, ACCOUNTABILITY / CONSISTENCY/ DISCIPLINE / NUTRITION issues, or you're looking for STRUCTURED and BESPOKE programs to get you flying…
Enquire NOW about my 1-2-1/ONLINE COACHING services via Email please.
Instagram: FRperformancee
Facebook: FRantastic Performance
Specialist Areas
Bespoke plan
Body fat reduction
Functional specialist
Muscle tone and development
Nutritional guidance
Postural correction
Special populations
Sport specific training
Strength and conditioning
Qualifications
 PREMIER TRAINING INTERNATIONAL:
ACTIVE IQ LEVEL 2 & 3 FITNESS INSTRUCTING & PERSONAL TRAINING
ACTIVE IQ AWARD IN INSTRUCTING KETTLEBELLS
ACTIVE IQ AWARD IN INSTRUCTING CIRCUIT SESSIONS
ACTIVE IQ EMERGENCY FIRST AID
ACTIVE IQ AWARD IN WORKING WITH COMMUNITIES TO PROMOTE & SUPPORT ACTIVE HEALTHY LIFESTYLES