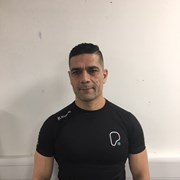 Contact
Free first session offered
Email me
Faridoon Ahadi
Fitness has long been my passion. It is one of the most important factors of my life. So important that I left my career to become a professional in the field of health and fitness. 
I continue to evolve myself to become a better Personal Trainer and aid others in achieving the fitness goals they have. Completing my Level 4 in Strength and Conditioning Coach has given me even more experience and understanding of the human body and how to apply exercises in the right way to benefit my clients. 
I'm also qualified as a kettlebell, TRX, self-defence and boxing trainer as well as a health nutritionist. I also have extensive experience in core training and improving body posture and movement techniques. 
I have helped many people in different areas of fitness such as running in marathons, sprints, boxing and martial arts competitions and courses like the Tough Mudder. I have also helped many people increase their general strength and endurance and become stronger and fitter individuals.
Specialist Areas
Functional specialist
Muscle tone and development
Nutritional guidance
Postural correction
Strength and conditioning
Boxing
Qualifications
Advanced Fitness Testing
Qualified Boxing Instructor
Certified Kettlebell Instructor
TRX Instructor
Bootcamp Instructor
Animal Flow Level 1 and 2 Instructor
Strength & Conditioning Level 4
Reps Personal Trainer Level 3
First Aid