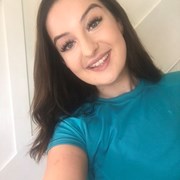 Erin Kavanagh
Hey, I'm Erin!
My priority is supporting you, educating you and giving you the confidence and knowledge to achieve your goals. I'll be there with you every step of the way.
For lots of PT's, they've always been super active and sporty and becoming personal trainers is a natural progression from their busy, fitness filled lives. This wasn't the case for me. I had never been 'sporty' or enjoyed fitness. I enjoyed food a lot and struggled with my appearance which led me to become very unhappy and lacking in confidence. After quite a few years of this cycle, I eventually decided to make a change and slowly started getting into exercising and changing my lifestyle.
I knew I wouldn't give up on my training because I wasn't going back to how unhappy I'd felt; so I kept going and fell in love with seeing my body change and feeling happy in my skin!
I've been where you are, and want to support you and teach you all I have learned to help you achieve your goal, whatever it may be.
All my PT 1-1 and 1-2 packages include FREE online training, support and extra workouts to follow outside of our sessions.
I cannot wait to get you started.
Come and find me in the gym or send me a message using my details listed below!
Speak soon!
Specialist Areas
Body confidence
Body fat reduction
Muscle tone and development
Qualifications
Certified Level 2 – Gym Instructor
Certified Level 3 – Personal Trainer