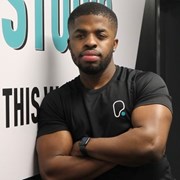 Emmanuel Osuala
Hey, my names Emmanuel (mannyreps) and I'm a qualified personal trainer.
I started my fitness journey in this gym ten years ago. When I started, I was very self-conscious about my appearance, lacked confidence and was very confused. It took me years to make the necessary changes to my lifestyle. I later took up boxing and attended the gym three to four times a week. Ten years later, I have a significant amount of knowledge and experience to train myself and others. Throughout those years, I realised the importance of repetition and without it, nothing meaningful can be achieved, but with my guidance and expertise, you can achieve your desired fitness goal.
What can I do for you?
As your personal trainer, I will provide you with trusted support and motivation, fitness programs that suit your needs and abilities and monitor your progress. My methods include fitness assessments to acknowledge your strengths and weaknesses, collaborative discussions to identify your goals and close observations to ensure exercises are done correctly. So, whether your goal is to tone up, get stronger or lose weight, be sure to contact me and we can get that ball rolling.
There's nothing of more value to me than helping somebody go through an experience that makes them happy, confident and strong. I realise how being some of those things affects many aspects of life and I want to be there for you and help you discover the benefits and joys of training that helped me become the person I am today.
Specialist Areas
Body fat reduction
Muscle tone and development
Strength and conditioning
Weight loss
Boxing
Qualifications
Level 2 Gym instructor 
Level 3 Personal trainer